The Fender Bass and Me
by Sonny Collie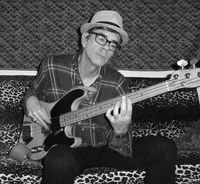 In 1951 Leo Fender introduced the Fender electric bass upon an unsuspecting world. Solving the traditional upright bass's problems of being hard to hear over a band and difficult to transport, the Fender bass revolutionized the sound and future course of popular music as much as did the electric guitar. 

I have played the instrument since high school and have made a living with it for many years. And I share a deeper connection with it: I was born in August 1951 and the Fender bass first appeared in stores a few weeks later, in September. I grew up hearing its punchy sound, though I didn't play my first one until the late '60s, when the bassist in a band in which I played drums began making bad grades in school and was forced to quit the band. I took his place because we knew another drummer but no other bassist. (Many bass players come to the instrument this way, by accident or necessity.) Once thumping on a Fender electric bass I never looked back... I was a bass player for life.

The original 1951 Fender Precision Bass was excellent in almost every way. The Fender company modified the design of the Precision Bass in 1957 and released a deluxe two pickup Jazz Bass in 1960. All are fine instruments, but the original 1951 model does everything an electric bass needs to do. 

The original 1951s are priceless collectors' items now, essentially unaffordable by working musicians. But I play a faithful replica of the original, made in Japan by Fender. It is a fine sounding and serviceable bass, and a beautiful piece of 1950s industrial design. I play it with respect and appreciation, always remembering the great contribution Leo Fender made to popular music. It is a privilege to be a small part of the Fender bass story, and to come close to sharing my birthday with it!